The European Union announced last week that starting from February 5, it will join forces with the G7 and Australia to impose price limits on Russian oil products. Among them, a price ceiling of US$100/barrel is set for more expensive petroleum products such as gasoline, diesel oil, and kerosene, and a price ceiling of US$45/barrel is set for low-priced petroleum products such as fuel oil and naphtha. The product provides shipping and related insurance services.
The reporter noticed that the EU's previous rounds of sanctions on Russian crude oil have begun to affect fiscal revenue. Russia's Urals traded at an average of $49.48 a barrel in January, implying a discount to spot Brent of nearly $35 a barrel, according to Russian Finance Ministry data. Before the Ukraine conflict, Urals traded at a discount of about $10 a barrel.
Russia's attempt to increase exports reduces the associated impact. Oil loadings at Russia's Baltic ports in January rose 50% from December to more than 7 million tonnes, the highest level in nearly four years, the report said. Exports of ESPO Blend crude from the eastern Russian port of Kozmino also hit a record high in January.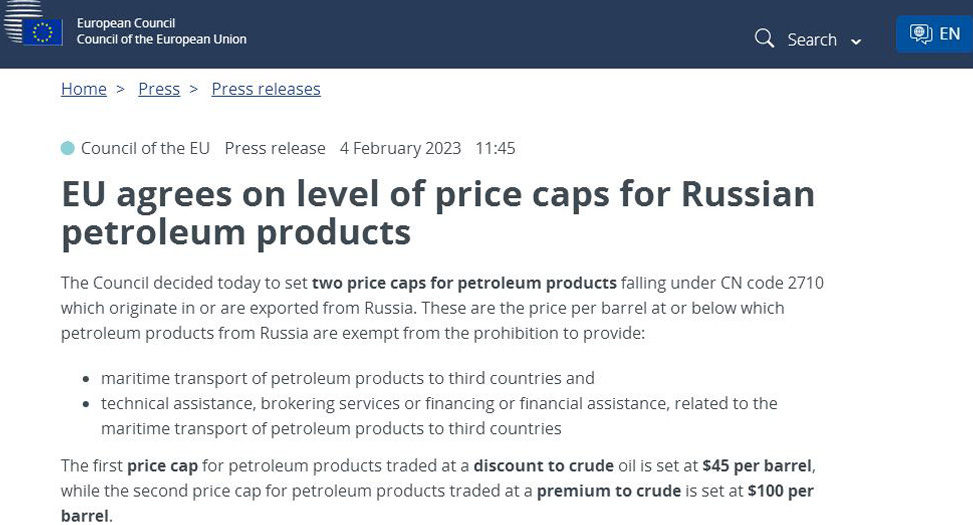 However, neither the EU nor Russia seems fully prepared for the new round of sanctions targeting the sale of diesel and other refined products. To fill the gap, EU countries have had to bid for diesel from the United States, the Middle East and India from other buyers, and Russia increased supplies to African and Mediterranean ports in January. Varga told reporters that the impact of sanctions on petroleum products could be even greater. Europe is the main buyer of Russian refined products, importing more than half of Russia's diesel imports, and the alternatives are not yet fully covered. And Russia will have to find new places to sell its refined products. In recent months, India and other countries have been important buyers of Russian crude oil, but these buyers are net exporters of refined oil products and have little need to import more products.
Alan Gelder, vice president of refining at consulting firm Wood Mackenzie, said that if Russian diesel cannot enter new markets and free up supplies from other sources in Europe, the shortage will bring another energy inflation in Europe. European Union environmental regulations have for years encouraged diesel vehicles, the fuel used by about 40 percent of passenger cars on European roads, and jet fuel is also likely to become more expensive. In this case, the winners would be the refiners, who already made huge profits last year.
Varga predicts that Russia may turn its attention to smaller markets in Africa and Latin America next, but this will hardly make up for the losses in Europe. If so, Russia will reduce refining capacity, thereby affecting crude oil production. Russia has previously predicted that sanctions on refined oil products will cause production to drop by 5%-7% this year. Compared with last year, Russia's energy exports will face more severe challenges in 2023.